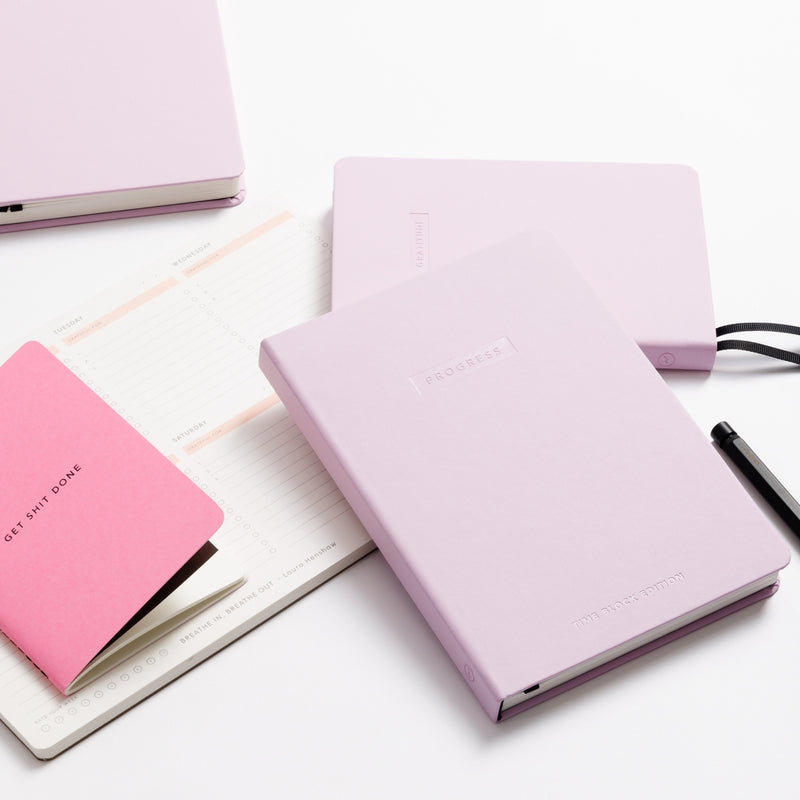 Trend Alert: Lilac Is The New Black
Posted by Gavin Tan on
---
Move aside black, there's a new "it" colour in town – lilac! As the Y2K trend makes a comeback this year, the soft purple hue can be seen everywhere; from stationery to home decor, and even hair colours.
Unlike the stronger purple shades, lilac gives a positive, friendly, and inviting vibe that makes people feel at ease. The pretty colour is quiet in tone, creating a calming and comforting aura that is perfect for interior decor, clothing, and stationery.
Whether you're a fan or not, it looks like these lilac shades are here to stay, and you best be getting on the trend train or risk being left out! Here's how you can incorporate this sweet colour into your everyday life without looking like Violet Beauregarde from Charlie and the Chocolate Factory.
Play around with your accessories
It can be hard to pull off a full lilac outfit – a head-to-toe lilac set is a recipe for disaster. So, try introducing lilac to your wardrobe with accessories that give you the right amount of colour to add liveliness and sophistication to your look.
Statement jewellery such as pieces with amethyst stonework, chunky rings, bracelets, and large earrings are a great way to highlight the shade without looking too crazy. You could also opt for a statement scarf or hat to add a simple pop of lilac to your outfit.
Whether it's a purse, hair accessories, or even socks, your choice of accessories is limited only by your imagination. Experiment with different items every other day until you're confident enough to go bolder with the lilac colour.
Monochrome your outfit
Monochrome is always a safe option for those who are uncomfortable with adding bright clashing colours to their daily wardrobe. Pair numerous shades of lilac and voila, you're now a runway model!
Trying on a variety of lilac shades also helps you identify which shade works with your skin tone and the rest of your wardrobe. In addition, going monochrome also minimises the risk of looking over the top and gives a sophisticated feel to your outfit.
Alternatively, you can complement your lilac clothing with something in your wardrobe that has a cool blue or grey undertone. This allows you to experiment a little outside your comfort zone while still maintaining a monochrome feel. 
Opt for an accent wall
This dreamy colour is perfect for your home's interior – it's a calming shade that makes you feel relaxed, and that's exactly what you'd want in your home. However, too much lilac may give off a slightly overbearing feel.
The best way to avoid that is to paint an accent wall in this shade. It is also the easiest way to incorporate this colour into your home without a full re-decoration. You can also make the process easier by opting for lilac wallpaper instead of painting, especially if you live in a rented property. This gives you the opportunity to experiment with patterns and designs that will add more aesthetic value to your home along with the lilac colour.
Experiment with decor items
Since the lilac trend is at its prime, there are many pretty home decor items available in stores and online that you can use to spruce up your home. This is a great way to add the dreamy shade to your house without having to commit to a new coat of paint or wallpaper.
Think cushions, rugs, candles, or vases. Arrange them sparingly around your space and live with them for a while to see if you resonate with this colour. Adding hints of lilac throughout your home is also a great way to brighten up and bring a pop of colour to your home.
Indulge in lilac-coloured stationery
When journaling your thoughts, ideas, and goals, you need to be in "zen mode". This is when the design and colour of your planner and notepads play a significant role in keeping you motivated and excited to continue your journaling habit as studies show that colours do affect people's mood and productivity.
As mentioned, lilac radiates all-pervasive tranquillity and generates a light and relaxed mood; it's the perfect colour for stationery, especially goal-setting and organisational stationeries. Lilac stationery is easy on the eyes and can keep you calm when you're tracking your goals or when you're simply trying to wind down by journaling your thoughts.
Here's some dreamy and lovely lilac MiGOALS stationery that is a must-have for all organisational junkies out there: 
We hope our tips will help add a splash of lilac into your life because this beautiful shade is versatile and low-key, yet brightens up and calms anything it touches. It's like lounging in a field of lavender – relaxing and oh, so beautiful!
At MiGOALS, we design the best empowering planners to aid your personal development. We take into account the aesthetics as well as the content of our stationery because we understand the importance of visual appeal when it comes to journaling and planning. View our range of goal-setting organisational tools that have helped change many people's lives!
Share online