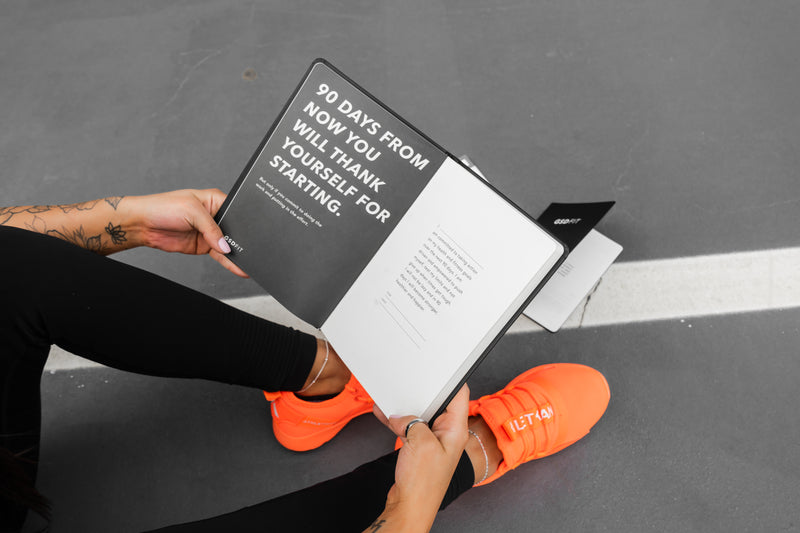 5 Habits to Adopt for a Healthier You
Posted by Adam Jelic on
---
Kickstart 2021 with these simple health and fitness tips you can easily start today.
Goodbye 2020, hello 2021! For many of us, a new year signals a clean slate. But the vastness and ambiguity of it all can be a little bit overwhelming. What do you do first? Where should you begin? How do I start?
We always say to start the new year by building your foundation blocks first - that is, positive habits you can easily adopt into your everyday routine. Have a read below for simple tips you can do for a healthier and happier you.
Practice Simple Breathing Exercises
While meditation has many benefits, it can be difficult to start. After all, the very idea of sitting still for a period of time feels strange, especially if you're a go-getter. We recommend starting small, and by small, we mean simple breathing exercises to reduce anxiety and stress. This exercise can be less than 5 minutes.
When you wake up every morning, try this breathing exercise below and observe how you feel afterwards. It's a great way to start your day with a clear and relaxed mind.
Inhale slowly and deeply through your nose

Exhale through your mouth

Repeat this exercise for several minutes
Keep Track of Your Fitness Goals 
If fitness is a big priority for you in 2021, keeping track of your progress is paramount to your self-development. There will definitely be times where you'll want to give up, so having a record of your progress will keep you motivated and stay on track. 
Start by having a fitness journal and write down your fitness goals for the year. Feel free to think big, but try to keep it within a 90 day timeframe. Things might change in 3 months, thus it's best if you stay flexible. Once you've identified your fitness goals, then start researching exercises - whether physical or mental - that you can do to help achieve that. 
At the end of each day and before bed, we highly recommend planning out your exercises beforehand. That way when you wake up, you've already created a structure that you can get into the habit of. No need to spend time overthinking it.
Stick to a Schedule
Consistency is key, and the easiest way to get yourself into daily positive habits is by getting your body used to it all. 
For example, you can start your morning with the simple breathing exercise listed above. Or you could start your day by exercising first thing. No matter what you decide, try your best to stay consistent, especially with the time of day.
Doing this on a daily basis will eventually get your body into the habit of it all, making it easier for you to concentrate and stay motivated in achieving your fitness and health goals.
Start small first
When it comes to anything health and fitness related, it's always recommended you start small first - whether it be exercises, food plans or goals. You don't need to start it all with a bang. Baby steps are just as important and significant as the big leaps.
For example, once you've mastered simple breathing exercises, start increasing the time spent on it or the amount of exercises you do in one sitting. Meanwhile, if regular workouts are a goal, start with lighter weights and shorter exercises first. Then when you're used to that, start to increase everything step by step. 
Though it may take longer for you to reach your goals, these building blocks will serve as a foundation for the rest of your progress. Trying to achieve your health and fitness goals without any foundation to lean on is a surefire way to experience burnout.
Plan your meals
We've all been in the situation of choosing to eat something on impulse rather than planning it out. The problem with this is that the choice is often an unhealthy one (or is that just us?). Try planning your meals beforehand, ready for the next day. We even recommend writing it down in a notebook to help remind you.
Doing this will naturally get you thinking about what you should and shouldn't consume. It's also a great way to make eating fun and put any cookbooks you have to good use. That said, planning an entire meal from scratch can be a lot, so if you're pressed with time, even just listing down a few healthy options for food that you can easily consume (eg: fruit) should suffice at the beginning. 
Use our GSDfit for a Healthier You in 2021
If you're looking for extra assistance on achieving your health and fitness goals for 2021, our GSDFit range is here to help you out! From journals to notebooks and a desk pad, this range is designed to keep you motivated and on track with your progress. See the range here
By Aleczander Gamboa

Share online