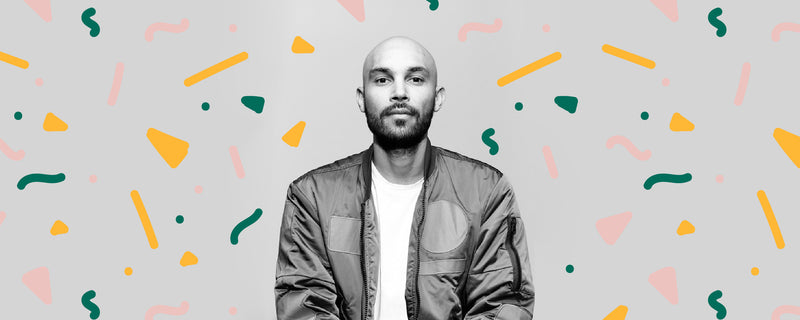 Goal Digger Series - Vince Lebon
Posted by Guest Contributor on
---
VINCE LEBON // ROLLIE NATION 
Meet Vince Lebon, Founder and CEO of Rollie Nation. Founded in 2012, the inspiration behind Rollie is a love story – Vince originally invented Rollies for his wife Kat so she could travel light while jetting around the world as a flight attendant. Since then, Vince and Rollie have achieved phenomenal levels of success – from landing a wholesale account with the world's largest shoe store in Dubai (Level Shoe District) to winning Lace Up: The Ultimate Sneaker Challenge TV series, and more recently spending two years in New York launching Rollie in the U.S, while also collaborating with major players such as Adidas, Asics, Footlocker and Jordan Brand. Rollie is now sold in 11 countries and continues to grow with every step, inspiring a global fanbase of curious creatives and comfort seekers. 
We chat to Vince about his proudest achievement, what's on his playlist, his definition of success and more below. 
2020 has been challenging so far, how do you stay focused and what keeps you inspired?  
I truly enjoy what I do, and I am proud of the team I'm doing it with; this really helps me stay focused and inspired. As a brand, I feel we are capable of so much – this keeps me super motivated and eager to challenge myself and my team to not settle for anything less than work we are proud of. 
What does your morning routine look like? 
I meditate most mornings and have a cup of tea as I review the three key things I want to achieve this week. I quickly scan my emails and begin my day with a two-hour focus block. I also often plan a morning run that I rarely take. 
Give us three of your best work from home tips. 
Know what you want to achieve each day (tied to a weekly and quarterly goal) then set time aside for focus blocks. 

Stay focused on your output, not your hours. 

Create a comfortable space for you to do your best work, don't mix work and play. 
Although there is a time and place for the laptop on the couch or bed, don't settle for a setup that won't get the most out of your day. 
Podcast or playlist - what are you currently listening to? 
I'm a big fan of Spotify Song Radio feature. I find a song, start a Radio playlist from it and like to get lost in a random selection of music. Today I'm listening to Mango by Orion Sun, Mulch.
What's the best advice you've received and who was it from? 
A friend of mine Lauren Zander (a super talented life coach from New York) made me aware that patterns unconsciously influence our thoughts, beliefs, behaviours and relationships. If you become more aware of repeating patterns you can consciously make better choices. It was very profound, once I was actively aware of patterns in my life. 
What's your proudest achievement? 
The makers of Project Runway created a Sneaker design TV series called "Lace Up: The Ultimate Sneaker Design Challenge" which I was on. I spent eight weeks away from my family, friends and the Rollie business, designing, and making sneakers for celebrities each week. My team won the competition and we made sneakers for James Harden that got produced by Adidas. It was a surreal feeling being a young dad, living my dream, as a kid from the western suburbs of Melbourne, Australia. 
What's the first book you read that changed your worldview?
Simplicity by Edward De Bono was the first book that really changed my worldview. It gave me a lens to see the world and refine my design process. He gives countless examples of how complexity creates confusion (a distracted effort), where simplicity is a focused effort. 
How has your definition of success changed from the start of your career until now? 
I have always measured success the same. It's easy to measure the success of a brand by top-line or bottom-line but rarely do people measure it by their experiences, and by the people they meet and ultimately impact; even if it's only for a moment of time through a product or experience. I feel success is a combination of all the above, whilst staying true to your values. I truly believe if you find a way to add value to people's lives, they will invest with their attention, advocacy, and loyalty 
What are the three things you're grateful for today?
With all the uncertainty with C019, this is something that I've taken the time to think about lately. I am super grateful for my friends and family, my health and the amazing Rollie community; We have made a heap of friends along the way; staff, customers, service partners and more. I am grateful for what we have achieved so far and super excited for what the future holds.
Follow Vince at @rollienation  @vince_lebon  www.rollienation.com 
Share online