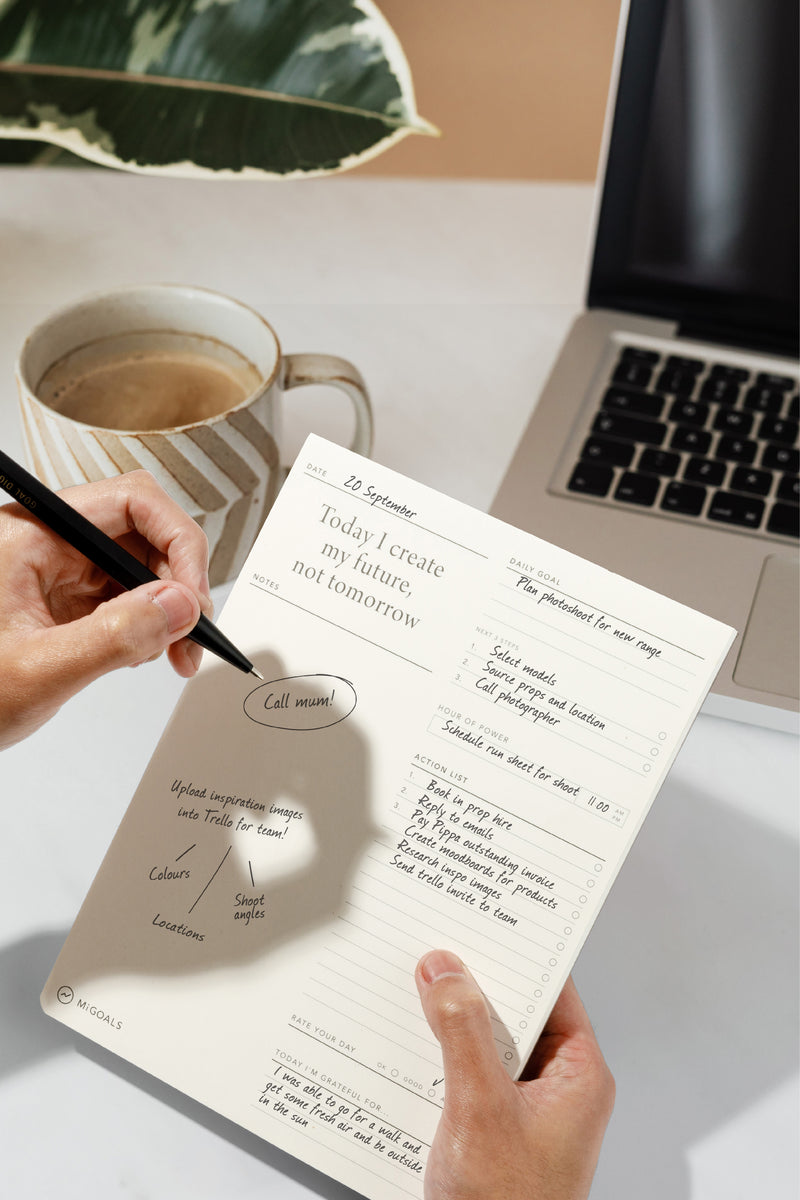 Time Management: Useful Tips To Stay On Top Of Your Workload
Posted by Gavin Tan on
---
We've all been there – it's when the task list gets longer and longer and you begin to feel like there aren't enough hours in a day to get everything done. If you're starting to feel overwhelmed by your workload, it's a good idea to take a step back and evaluate whether you are taking the right approach. Is there a way you could be tackling your work more effectively? Or are you just not managing your time in an efficient manner?
In this article, we suggest some helpful tips that you could implement in your workday to better manage your time and stay on top of your tasks.
1. Plan Ahead
Whether it's planning your week ahead, or your month, or even the year, the most important thing is to plan. By putting a MiGOALS diary in your office, it gives you an overview of what your days look like. Creating this schedule allows you to visualise the future and structure your time so that you can prioritise and re-prioritise tasks. Organise tasks based on deadlines, and prioritise the big jobs that need more time and attention to be completed. Make sure to be realistic when creating a plan or you will end up with an overly ambitious work schedule that is impossible to follow in a realistic manner.
Other than buying a year planner, it is good practice to also have a small planner for yourself – one that is compact and small enough to carry around. A journal in A5 is the perfect size to bring around in a bag, especially if you have meetings or work remotely in different places.
2. Time Blocking
Time blocking is the practice of dedicating specific sections of your time in your workday to a single task. Essentially, it is the opposite of multitasking. When multitasking, your attention is spread across multiple tasks all at once, making you inefficient. But with time blocking, the idea is that by dedicating all of your focus in that predetermined chunk of time, you will be able to get it done quicker, and to a much higher standard than with multitasking.
To start, you need to schedule the amount of hours you have available and assign them to items in your to-do list. The best daily planners will allow you to structure your time in an efficient way, while also having enough space to write a few words about each task or targets that you want to achieve. If necessary, you can have a separate diary planner solely for the purpose of breaking down your day into specific blocks of time instead of cluttering up your main 2023 year planner.
3. Notice Your Distractors
We're fickle creatures, prone to getting distracted and side tracked from our work and goals. Now more than ever, especially with social media, it is getting harder and harder to focus. Which is why it's important to stay prudent and alert.
Realise what your distractions are, and admit to them being a distraction. It could be anything, whether it's an app on your phone, social media, or even having too many browser tabs open. Once you have spotted the things that are taking your mind and attention away from your tasks, you can start taking steps to eliminate them, until you finish your work.
The steps can be simple, such as putting your phone on silent mode and keeping it in a drawer, or even downloading a Google extension that stops you from accessing social media on your browser. Over time, habits like this will become automatic, to the point where you can become completely focused and nothing can distract you.
Stay In Charge Of Your Workday with MiGOALS
No matter what field or industry you work in, we hope that these tips will help you manage your time better. At MiGOALS, we produce the best goal setting planners that are beautifully designed especially for your personal development. View our range of empowering planning tools that have aided so many in changing their lives!
Share online