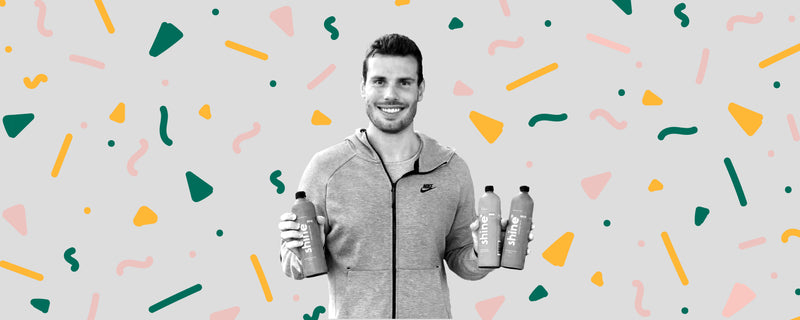 Goal Digger Series - Steve Chapman
Posted by Adam Jelic on
---
Meet our next goal digger, Steve Chapman, CEO and Co-Founder of Shine Drink, Australia's first Nootropic drink which combines age-old ingredients to energise and awaken the mind. Since launching four years ago, Shine is now available in over 5,000 stores, making it one of the fastest-growing beverage brands in Australia. 
We're excited to chat to Steve about what keeps him inspired, the first book that changed his worldview and his definition of success. 
Tell us about your "aha" moment with Shine. 
Dr Sam Prince (Shine Co-Founder) and I had the aha-moment for Shine when we would get to the afternoon or end of a long day in the office and be completely exhausted, mentally. We still needed to work a few extra hours and produce quality outcomes, but the only drinks to sharpen our minds at the time were coffees or energy drinks. Given we are both health-conscious and didn't want to consume too much sugar and junk, we started researching other ways to energise the mind. We stumbled across Nootropics - but realised there were no 'Natural Nootropic' drinks in the market as a healthy alternative to an energy drink - Shine was born and the rest is history. 
2020 has been challenging so far, how do you stay focused and what keeps you inspired?  
Well, thankfully Shine is a drink that helps you stay focused so that always helps! Other than that, I love reading biographies of great entrepreneurs or historical figures which gives me hope and inspiration. It keeps me humble too, knowing others have endured so much suffering and struggle on their own journey, and often it ends well for them. The success is not guaranteed but the struggle is.
What does your morning routine look like? 
I have a pretty strict morning routine and have tweaked it over the years. Every day starts at 4:24am. I immediately do some journalling and write down whatever is on my mind for 15-20 minutes. Next, I'll do some exercise, either at the gym or a run between 5am and 6am. After exercise, I'll sit down for a 20-minute meditation, followed by some Wim-Hoff breathing and then a cold shower to finish off my routine. After this, I'm ready to go by 6:30am. 
Give us three of your best work from home tips. 
Play with your day structure to optimise for your natural energy levels. You've got the opportunity to be flexible here - experiment with when you sleep, work, eat and exercise.

Block out tasks in your calendar as if they were meetings, so you stay on task and focused throughout the day. Also if you've got a phone call meeting - try going for a walk around the block during this time.

Set up your work station at home properly and ensure it's a space that you are excited about working from. Hang your favourite quotes on the walls, get a good chair, monitor and keyboard/mouse and keep your desk tidy and organised. You'll enjoy the experience so much more if you like the space you're in.
Podcast or playlist - what are you currently listening to?
At the moment I'm really enjoying 'My First Million' podcast by the guys at The Hustle. Lots of great entrepreneur guests, useful advice, startup ideas and inspiration. 
As for a playlist, I'm listening to 'Lo-Fi Beats' on Spotify every day whilst I work and really enjoying the chilled background tone and vibe that helps induce flow states.
What's the best advice you've received and who was it from? 
It's hard to drill down to just one piece because I've learnt so much from my mentor Dr Sam Prince. I think it could be summarised by "have the courage to live out your best thoughts" which is Sam's way of saying, pursue your potential with everything you've got and have the courage to dream big and go after it. This mindset is incredible for removing any limiting beliefs that might be holding you back.
What's your proudest achievement? 
It's a tough one. I try and do at least one crazy thing per year. The first thing that comes to mind is completing my first full Ironman (3.8km swim + 180km bike ride + 42km marathon) in June 2019. I started training in January 2019 and didn't even own a bike, and weighed 105kg. I started the race six months later at 87kg and crossed the finish line in a respectable 12 hours.
What's the first book you read that changed your worldview?
It would have to be the biography of Richard Branson by Tom Bower. It was the first book that I actually finished. It also got me hooked on entrepreneur's biographies and self-development/ personal growth. After I read that Branson book, it resonated with me so deeply that I knew entrepreneurship was what I wanted to do for the rest of my life.
How has your definition of success changed from the start of your career until now? 
I used to think success was getting to a certain level of society, whether that is fame, wealth or power. However, my definition of success has changed from a destination to instead enjoying the journey and giving every day your best effort. Success is a mindset more than a destination.
What are the three things you're grateful for today? 
My team at Shine. My fiancée and puppy at home. My morning ferry ride commute from Manly watching the sunrise
Check out shinedrink.com and follow @shinedrink on Instagram!
Share online