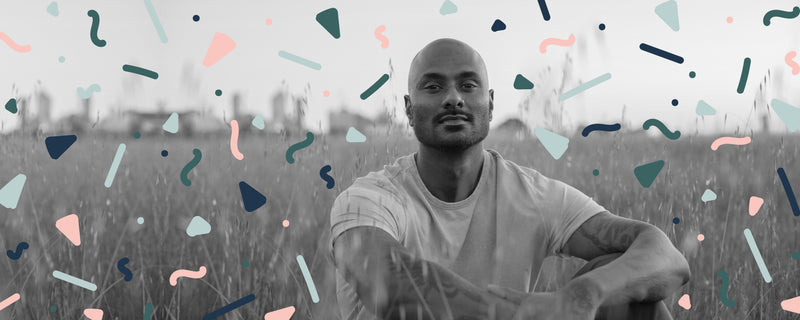 Goal Digger Series - Manoj Dias
Posted by Adam Jelic on
---
Meet our next goal digger, Manoj Dias, a father, meditation teacher, founder of A—SPACE Meditation Studio and co-founder of Open Meditation Studio in California. In all of his endeavours, he is motivated by bringing people together to feel like they belong and that they have the tools and wisdom to live lives of meaning. 
We're excited to chat to Manoj about how he stays inspired during this challenging time, his proudest achievement and the two books that changed his worldview. 
Tell us about your "aha" moment with A—SPACE
Perhaps recognising there was a hungry community of meditators in Melbourne that were meditating with apps but didn't really have a space to come together, way back in 2016. The aha moment was that meditation is great but meditating with others would be greater. The idea was to bring teachers from various traditions who were skilled and knowledgeable to teach ancient and evidence-based practices together with a community of curious students. 
2020 has been challenging so far, how do you stay focused and what keeps you inspired?
I stay motivated by thinking less about myself or my company and more about how it can be of benefit, especially when everything is uncertain. It may sound counter-intuitive when you own a company that has employees and bills etc, but we teach people how to navigate lives that are inherently uncertain and scary by training their minds (and hearts). What inspires me is the potential of the human spirit when we come to terms with what really matters. 
What does your morning routine look like? 
I usually get up at 6.30am, meditate for 45mins, read a few pages of my favourite book and then check a few emails. I try to work out by 8am; weights or yoga, before calling my girlfriend in New York on my morning walk to get a coffee. 
Give us three of your best work from home tips. 
Be okay not being as productive as you were pre-pandemic. Our nervous systems are under a lot of pressure right now and adding additional stress is not only harmful but ineffective - be okay with just showing up.

Don't feel guilty about naps.

Definitely change out of your pj's (a few days of the week)
Podcast or playlist - what are you currently listening to? 
The soundtrack to my quarantine has been: 
DVSN - A Muse In Her Feelings 
Serpentwithfeet - Apparition
Podcast - 10% Happier 
What's the best advice you've received and who was it from? 
"Feel your feelings" - one of my Buddhist teachers once told me that and it was like medicine to my ears. It meant I didn't have to avoid feelings of sadness, anger or fear, it gave me the strength to be able to face anything in my life. 
What's your proudest achievement? 
I'm a really proud father so that's probably up there, but I'm equally proud of pursuing a path/career that is of benefit to others. 
What's the first book you read that changed your worldview?
There's two! 'A Certain Smile' by Francois Sagan - this taught me a lot about love in unexpected ways. 'The Places That Scare You' by Pema Chödrön - this book is the manual to living life fearlessly. 
How has your definition of success changed from the start of your career until now? 
I used to think it was about what I acquired - money, reputation, etc. But I've come to believe what I value the most is connection. Connection to my work and its mission, my family, my community, my body and my mind.
What are the three things you're grateful for today? 
My daughter, the hard times I've been through and studying Buddhism.
Check out A-SPACE and O-P-E-N follow Manoj on Instagram @manojdias_ 
Share online