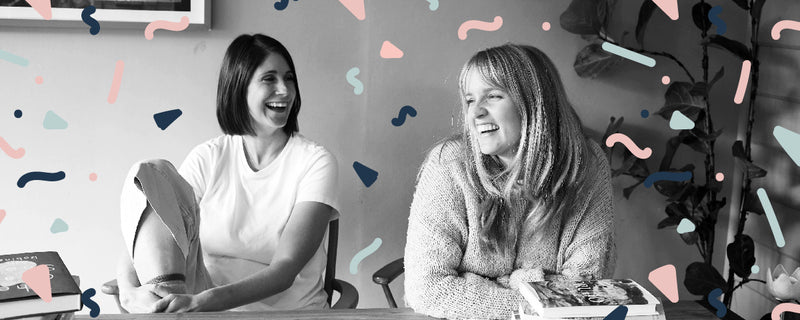 Goal Digger Series - Laura Brading and Biz Cranston
Posted by Adam Jelic on
---
Meet Laura and Biz, the dream team behind WellRead - a book subscription service that delivers thoughtfully curated books to your door. And they're not just any books either, they're the best literary titles out there, hand-picked by the duo themselves with a focus on quality not quantity.
Laura is a former book publishing professional and bookseller, while Biz comes from a tech and marketing background, and together, they're an unstoppable force. Laura and Biz originally connected through their local book club, with Biz rediscovering her joy for reading through Laura's personal recommendations. It's from this experience that WellRead was born - in a saturated market, how do you make a decision on what to read next? Leave it to Laura and Biz, who read mountains of books and cherry-pick hidden gems and the best literary titles, so you don't waste time and money on duds - sounds pretty good to us. 
We're excited to chat to Laura and Biz about how they've stayed inspired during this challenging time, the first book that changed their worldview (no pressure!) and how they start their morning (hint: it involves cooking a 20-course breakfast for the kids…).  
Tell us about your "aha" moment with WellRead. 
LAURA: My aha-moment was when Biz got on board. I'd been sitting on the idea for so long that it seemed stale and out of reach. Biz's skills and enthusiasm changed that dynamic completely. Suddenly we had a business concept that we believed in. And the rest is history!
BIZ: When we started to have more orders coming through from people we didn't know I thought 'ok, wow, it's not just our friends showing their support, people really are looking for a service like ours'.
2020 has been challenging so far, how do you stay focused and what keeps you inspired?
LAURA: It's been a year of unexpected turns (me and everyone else, I know). Staying focused during this time has meant waking early or staying up late to ensure I get time to myself. A solo walk can do wonders! 
Inspiration has been readily available during this time I have to stay. It's been so impressive and heartening to see businesses pivot and communities extend in the pursuit of goodness rather than capital. What keeps me inspired right now is reading topnotch long-form journalism that makes sense of the world and novels that distract and delight (although novels can be sneaky things and also make sense of the world, beware!).
BIZ: Having the kids at home all the time has been challenging but it's also made me super productive whenever I have some time to myself. I can get really distracted by social media so I've been making an effort to stay away from my phone (not always so successfully). Lucky for me reading books is a necessity for our business and this little bit of escapism has helped me to keep inspired.
What does your morning routine look like? 
LAURA: Routine? What's that?!  
BIZ: I wish I could say I start the day off with yoga/meditation/a quiet coffee... in reality, I'm preparing a 20-course breakfast for the kids.
Give us three of your best work from home tips. 
LAURA: I like to do a manic clean before sitting down at my desk (read dining room table) just to get the blood flowing. I'm a chronic list maker and I wholeheartedly believe in their organisational superpowers. Lastly, I'd say don't eat where you...work. Take a break, do some star jumps, read a book.
BIZ: 1. Keep your workspace clutter-free 2. Noise-cancelling headphones to block out any distractions 3. Keep the fridge stocked with lots of yummy food so you can look forward to a delicious lunch 
Podcast or playlist - what are you currently listening to? 
LAURA: Very excited to have Dolly and Pandora back on 'The High Low'. Have also been listening to Elizabeth Day's 'How to Fail' which is excellent. 
BIZ: I need 100% concentration for podcasts so music is my go-to at the moment. Been listening to 'Gordon Koang Radio' on Spotify on repeat.
What's the best advice you've received and who was it from? 
LAURA: Forgot who said it but the advice was to say yes to everything; be a yes person because you never know what opportunities will exist because you said yes. I'm naturally a sometimes person so I try to remind myself of this as often as I can.
BIZ: You never know what someone else is going through. Source unknown.
What's your proudest achievement? 
LAURA: My spawn of course! Oh and the year I read 110 books. 
BIZ: Birthing my two boys (I can be quite dramatic when I stub my toe!) and taking time out of the workforce to travel around Europe in a campervan for 6 months.
What's the first book you read that changed your worldview?
LAURA: These questions are always harder for book people. I don't like picking favourites but 'The Velveteen Rabbit' really got me thinking about love and authenticity at a young age so that's something. More recently I'd have to hand the honour over to Rachel Cusk, Toni Morrison, Deborah Levy, Elizabeth Strout, Jenny Offill, the list goes on and on. 
BIZ: Not the first, but one of the oldest books I remember affecting me deeply is 'A Thousand Splendid Suns'.
How has your definition of success changed from the start of your career until now? 
LAURA: I now view success more as a reflection of my satisfaction with the work I do rather than ticking off specific achievements. It also has a lot to do with the way work fuses with the rest of my life - not to take away from it, but to enrich it.  
BIZ: Over the years, I've realised that doing something that you enjoy can go a long way to making you feel successful. And this goes for your professional and personal life.
What are the three things you're grateful for today? 
LAURA: Sounds downright cliched and could be anyone's answer but I don't know how I would have gotten through these last few months without books, the ocean and my family. 
BIZ: My family, my friends and having outdoor space during this time of isolation.
Find out more at
www.wellread.com.au
and follow @wellread__ on Instagram
Share online